About – Raheja Vivarea
3 BHK Flats in Mumbai, Mahalaxmi – Raheja Vivarea
Life at top experienced from the best vantage point
The stunning higher floors at Raheja Vivarea now open.
Vivarea offers spacious and skillfully designed 3 BHK flats in Mumbai, Mahalaxmi. Located in one of the most desirable addresses in the city, these luxurious 3 BHK and 4 BHK apartment complex in Mahalaxmi Mumbai presides over 14 acres of prime real estate overlooking the Mahalaxmi Racecourse and the Arabian Sea. Bringing its legacy of excellence to a grand conclusion, Raheja Vivarea presents the fifth and final tower. A low–density development with vast tracts of open space, it is an oasis of peace nestled in the heart of a bustling metropolis. It is unique for more reasons than one. Influenced by Mondrian pattern, the landscaping has been specially designed to display 3 distinct colours all year round. Its conceptualized as a dynamic juxtaposition of linear angles and a central circle

3 BHK & 4 BHK Apartment in Mahalaxmi – Mumbai

A low-density development nestled in the heart of Mumbai


Homes to the affluent and India's iconic corporate names

3.8 mtr floor to floor height

Homes with 270-degree views

Ultra-spacious apartments with balconies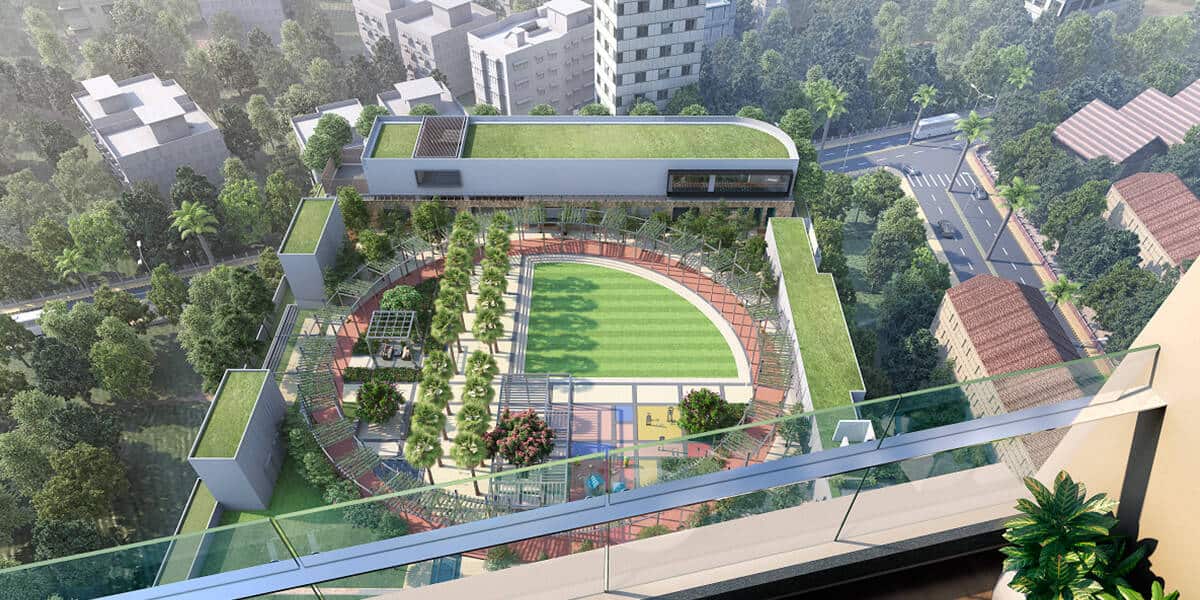 An Elite Inhabitation
Amenities
A coveted experience brought together by a cohort of contemporary amenities. Creating a number of fleeting moments of bliss that you share with sheer happiness, content and accord. By making something for everyone, this superlative residential complex brings each inhabiting demographic the lifestyle opulence adapted to their convenience. The indoor games, fitness areas and other leisure activities, all situated in the gated community ensure you lack for nothing.








Salon and Spa (Brand – Warren Tricomi)
















Open Children's Play Area


The Locus of Opulence
Nearby Locations

Connectivity:
Marine Drive: 7.5 km
Bandra Worli Sea Link: 6.1 km
Nariman Point: 7.0 km
Tulsi Pipe Road: 3.3 km
Mahalaxmi Station: 0.7 km
BKC: 13.5 km
International Airport: 17.2 km
Domestic Airport: 16.6 km

Education:
Aditya Birla World Academy: 2.6 km
Vila Teresa High School: 3.7 km
Bombay International School: 3.9 km

Healthcare:
Wockhardt Hospital: 600 m
Sir H. N. Reliance Foundation: 2.8 km
Saifee Hospital: 3.5 km

Cinemas:
Inox: 6 km
PVR Phoenix: 2.3 km

Clubs And Gymkhanas:
Royal Western Indian Turf Club: 1.2 km
Mahalaxmi Race Course: 2.1 km
Willingdon Sports Club: 2.9 km

Retail:
High Street Phoenix: 2.3 km
Atria Mall: 3.8 km
Mr. Sanjay SakhujaCEO, Ambit Capital
"The sea is no more than 3-4 Kms away, so the breeze… you don't need to put on the fans and air conditioners. You can just open the window and try not to be swept away."
Mrs. Pinky DalalFounder & Chairperson, JBCN International School
"In 2010, we decided to uproot ourselves from Altamount Road to Vivarea & till now I think this is one of the best decision we have taken as a family."
Mrs. Hemali DalalBoard of Directors, JBCN International School
"We are a part of various clubs in Bombay but we really don't need to go anywhere because all the facilities that you would want are here. That advantage is really unmatchable."
"Vivarea is like a vertical village, a village where everybody knows everybody, where there is a sense of community."
Mr. Kumar GoradiaCountry Manager, XTX Markets
"Overall Experience – There is less hype. No fancy stories, no glossy brochures with people & images.. they don't exist. There is definitely much more transparency and honesty in the process. Well Done!"
Consulting Architect
Atul Desai Consultants
Structure
Sterling Engineering Consultancy Services
Facade Engineering
M/s BES
Landscape
M/s Site Techtonics
Energy Consultant
M/s Godrej and Boyce
MEP Consultants
M/s Pankaj Dharkar and Associates
Lighting Consultants
M/s AWA
South Mumbai or more popularly known as SoBo is the most aspired locality of Mumbai. The location, neighbourhood, standard of living and the exclusivity of this area is what attracts the most and owning a home in South Mumbai is like stating your arrival to the world.
And if you are looking for 3 BHK flats in Mumbai , one of the sought-after locations in the South Mumbai region is Mahalaxmi. With being adjacent to Worli (almost considered a part of it) and in the close proximity to Tardeo, Mahalaxmi is one of the most desired locations in Mumbai and offers flawless connectivity. This locality has also attracted some of the top developers in the country and their projects beautifully adorn it. Though the shining jewel of Mahalaxmi is Raheja Vivarea. This eminent residential complex with luxurious 3 BHK and 4 BHK flats in South Mumbai presides over 14 acres of prime real estate overlooking the Mahalaxmi Racecourse and the Arabian Sea. This legacy, Raheja Vivarea is eminent in its five towers. A low–density development with vast tracts of open space, it is an oasis of peace nestled in the heart of a bustling metropolis. It is unique for more reasons than one. Influenced by the Mondrian pattern, the landscaping has been specially designed to display 3 distinct colours all year round. It is conceptualized as a dynamic juxtaposition of linear angles and a central circle.
If you are looking for 3 BHK flat in South Mumbai or 3 BHK in Mahalaxmi, Raheja Vivarea is the project to opt for. Because we at K Raheja Corp., have created a coveted experience brought together by a cohort of contemporary amenities. We have created a number of fleeting moments of bliss that you can share with sheer happiness, content and accord.
Note: The project named "Vivarea" is a development by the Promoter/Developer – Genext Hardware & Parks Private Limited (a 'K. Raheja Corp group' co.) and it , comprises of Building No.1 (Towers – A, B and C), Building No.2 (Tower D) of the Building No. 3 (Tower E). Construction of Building Nos. 1 and 2 was completed in have received OC on 18.7.2013 and 11.2.2018, respectively. Building No. 2 – Phase of Vivarea and Tower E of Building No. 3 have been registered via MahaRERA registration number P51900008014 & P51900019931 respectively and their details are available on the website https://maharera.mahaonline.gov.in under registered projects. The images depicted are either actual or indicative images for illustration. The common amenities and facilities showcased are actual or indicative images of the common amenities and facilities provided or to be provided for the project 'Vivarea' at the time of completion of the entire Vivarea development complex. Details ofn the specifications of building/apartment, standard offerings, amenities and facilities are available at site for verification. It is clarified that only the agreement executed with the actual customer/s will govern the finalised amenities and facilities for the respective apartment. The landmarks indicated on the map may be subject to change and to which, the Promoter/Developer has no control. The testimonials, statements & opinions represented herein, are individual experiences, of apartment holders owners in the project Vivarea. The Promoter has formed the Vivarea Condominium has been formed in with respect of to the project Vivarea. Intending purchasers are requested to verify all details before acting in any manner with respect to the project Vivarea. The Promoter/Developer's share of apartment/s in the Vivarea are mortgaged with HDFC Limited. No Objection letter would be obtained at the relevant time, when required.
Address:
Raheja Vivarea, 25A, Sane Guruji Marg, RTO Colony, Mumbai Central, Mumbai, Maharashtra – 400011